Summer Camp
Camp John J. Barnhardt hosts four weeks of resident camp for Scouts, BSA Troops and Venturing Crews each summer. We also have a three night camp for Webelos Scouts. Our camps can accomodate up to 275 Scouts per week and include the opportunity to climb, swim, boat, waterski, shoot rifles, ride ATVs, slide down the zipline, and much more!
There are several things that make Camp Barnhardt special. First, we have fun! We don't spend the entire day in merit badge sessions. We develop a theme each summer and use that them to plan a number of interesting and challenging events. During our Highland Games summer, we tossed cabers and played softball in kilts. As part of Colonial Barnhardt we crossed the Delaware on paddleboards dodging the British that were swinging pool noodles. Of course, we also took Paul Rivere's ride. As part of our Reindeer Games, we held a Festivus party where the SPL competed in feats of strength (that is until pirates threw the Staff SPL into the pool each week). We also have free-time outside of these events and merit badges. While portions of our camp are carefully scheduled, we do offer Scouts two hours a day to enjoy our programs as they see fit. They can visit the tower, swim, take out a boat, or just spend time in their campsite with their friends telling stories and playing cards.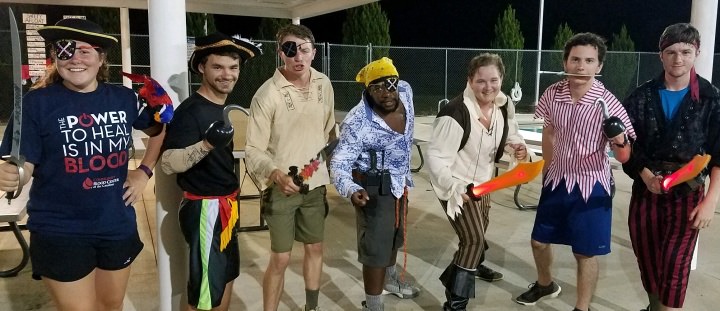 Second, we emphasize hands-on learning in small groups. There are no flip chart presentations or large group merit badges at Barnhardt. We want Scouts to earn badges by mastering skills though games, challenges, and other engaging methods. That's why all merit badge sessions are capped at 16 or fewer Scouts (90% of or sessions are even capped at 12 or fewer)! Scouts that come to Barnhardt will recieve personal attention and the mentorship needed to truly earn Scout badges. Learn more about each of our program areas by clicking the links on the right!
Third we have trained an energetic and creative group of dedicated Scouts to serve as the camp staff. Our staff has numerous adults with over a decade of experience and those that lead major program areas have been trained at the National Camping School. Most of our youth staff spent a summer as a Counselor-in-Training prior to joining the staff so they are well prepared to work with campers. Unlike other summer camp teams, our staff works together throughout the year at events like our Winter Camp and has developed the skillsets necessary to deliver quality programs.
Finally, our camp is safe. We have a Camp Health Officer on site at all times during summer and winter camp and at more than 50% of the staff is trained in first aid and CPR. Central NC Council values safety and makes sure even the most adventurous activities are safe. As a result, Camp John J. Barnhardt has been accredited in each of its 57 years of operation.
To learn more about our summer programs, click the appropriate link below!