Climbing & COPE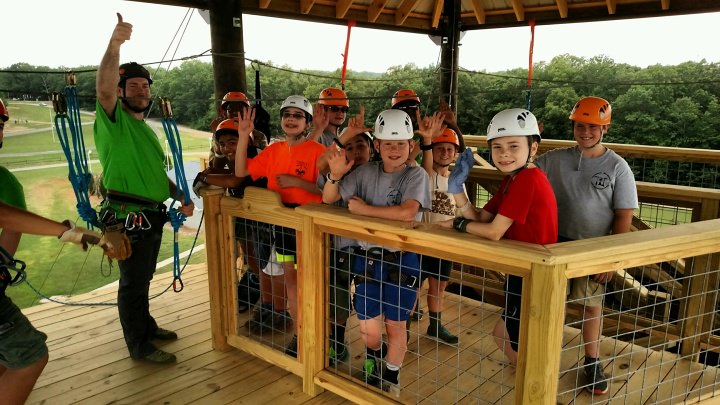 Camp John J. Barnhardt has the highest climbing tower of any Scout camp in our area! Built in 2015, it is an excellent location learn to climb and rappel... or maybe just take the ninety-nine stairs up to the top platform to enjoy the scenic view of Badin Lake and the beautiful Uwharrie National Forest.
Though we challenge Scouts to attempt to make it to the top of our tower, it is also designed for shorter climbs and rappels for Scouts working their way up to the top. Scouts can climb to and rappel to a lower platform if they wish. This level even offers the opportunity to free rappel through the middle of the tower! The inside of the tower is even set up for unique climbs. The tower is fully equipped with lights so that it may be used for evening climbing and rappelling.
The highlight of Camp Barnhardt's high adventure program is the twin ziplines that are over 525 feet long. Slide down one zipline while another member of your troop races down the other! We also offer a COPE program which includes the zipline and low ropes course. This program helps with team building and trains Scouts to use creativity and problem solving skills.
Our programs are led by a National Camping School certified COPE Director while other members of the team hold BSA Climbing Level 1 certification.