A Salute to Jack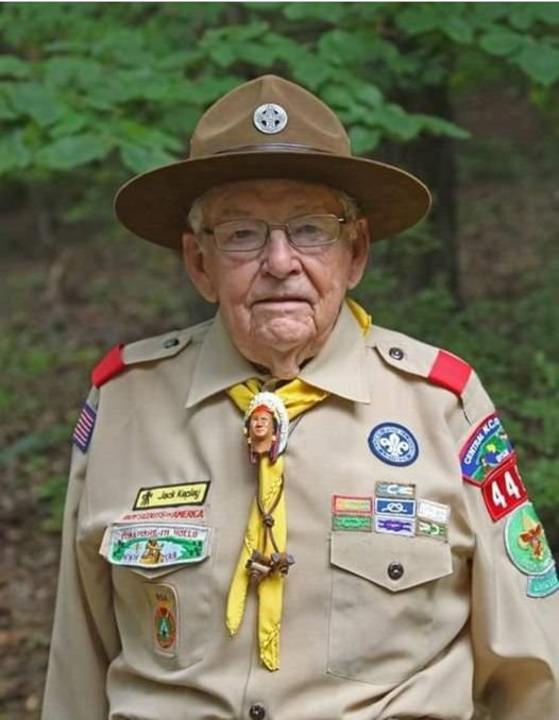 The 2023 summer program at Camp John J. Barnhardt ("Barnhardt Lumberjacks") was been developed to honor our fomer Camp Director, Jack Kepley. Jack passed away during the summer of 2022 at the age of 98. Jack had attended a portion of camp every summer from our opening in 1966 until 2020. He was so integral to our camp, that our camp video ends with him announcing our camp's slogan: "This is my camp."
Everyone knew him as Jack as opposed to Mr. Kepley so it's fitting that we seleted a theme with "Jack" in the title. While he wasn't a lumberjack, he was a skilled craftsman and spent many summers helping Scouts earn their woodwork or woodcarving merit badges. He would have appreciated the woodcraft competition planned for Wednesday nights as well as the cooking competition (Jack visited camp to teach cooking just a couple years ago). Our "Jack of all Trades" event challenged Scouts to try many of the outdoor activities that Jack enjoyed.
To encourage Scouts to learn about Jack's contributions to our camp and Scouting, we designed a series of three special award patches tied to the badges he taught and the skills he loved. Clink on the links below to see the requirements for each award-- and why those were selected. To learn more about Jack's Scouting experience, you can read his book for free: Over the Next Hill.
Our goal is to reach:
448 Scouts and leaders completing the "Scouting's Flame" award to match the number of the troop he led for 41 years. During Jack's final year of Camp Director, he used the slogan "Scouting's Flame Burns Bright."
146 Scouts and leaders completing the "Thunderbird" award to match the number of Eagle Scouts he mentored in Troop 448. His troop used the bird as a mascot during his leadership.
85 Scouts and leaders fulfilling the expectations of the "Chieftain" award to match his 85 years in Scouting). This award title is based on Jack's legacy of carving indian neckerchief slides for his Assistant Scoutmasters and Scouts receiving awards.
Throughout the 2023 summer, we added names to signage depicting how many have saluted Jack by focusing on the skills he loved. We'll continue to add names and award patches until we reach the goals above!
We hope you'll join us in our Salute to Jack program.
| File Name | Description | |
| --- | --- | --- |
| Over the Next Hill | Jack Kepley's Scouting Stories | Download |