Central NC Council Office Closed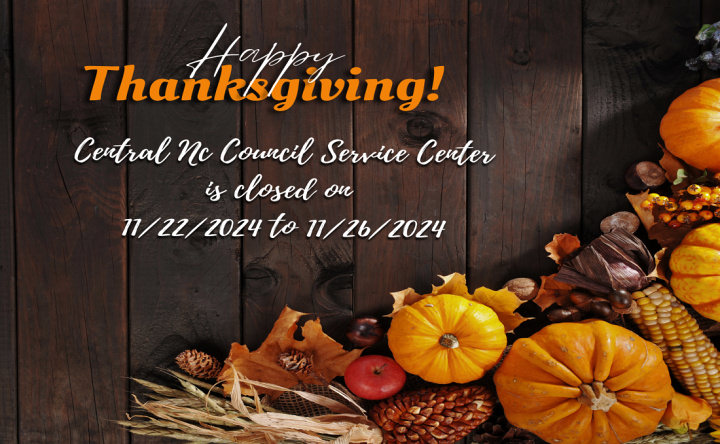 Date:
Nov 22, 2023 to Nov 26, 2023
Location:
Central North Carolina Council
32252 Hwy 24/27
Albemarle, NC 28002
Location Phone: 7049820141

On this Thanksgiving Day, a profound sense of gratitude envelops us at Central North Carolina Council. It is a moment for us to pause and reflect upon the multitude of blessings that enrich our Scouting family ––blessings that include:
Our Scouts, who are forging the path towards their brightest, most promising futures.
Our Scouts' family members, who recognize the profound value of investing in our young people's growth.
Our dedicated volunteers and tireless staff–the heartbeat of your Scouting program.
Our cherished Scouting Alumni, guardians of Scouting's mission, values, and traditions for generations to come.
And of course, we're deeply thankful for you. Your unwavering support of Central NC Council is what makes it possible for young people in our community to grow into confident, capable, values-driven leaders. Your belief in their potential is invaluable, and we treasure your continued support.
Scouts are truly making a positive impact on the world, and your unwavering encouragement empowers them to reach new heights. Your role in this incredible journey is essential, and we cannot thank you enough for everything you do.
Wishing you a Thanksgiving filled with joy and heartfelt gratitude.